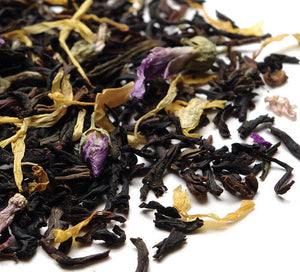 Mango Tango is a fresh take on the classic tradition of flavored black teas. This blend of crisp Ceylon and fresh passion fruit and mango creates a light and fruity combination that is great any time of year. It brews into a deep, reddish liquor with a heady, bright aroma that lends itself to versatility; a steamy pot will warm you up when it's cold out while an iced cup will keep you cool on hot summer days. Loose leaf.
Premium mango black tea
Brisk black Ceylon tea with a mango twist
Makes great gourmet iced tea!
Ingredients: black tea, mallow flowers, marigolds, mango & passionfruit flavoring